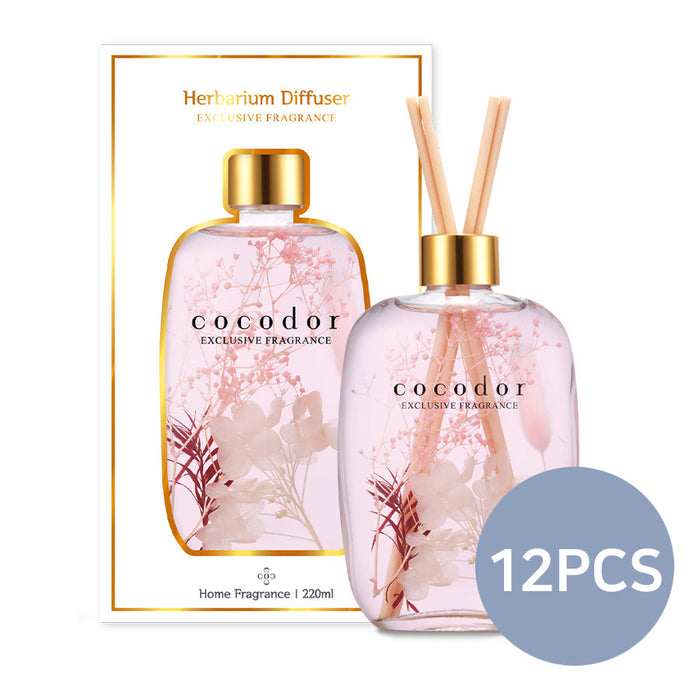 Herbarium Diffuse Bundle / 7.4oz / 12 Pack [Build Your Own]
Sold out
Original price
$158.00
-
Original price
$158.00
CONTENTS 
Glass Bottle 220ml / 7.4oz + Wood Stick 5pcs
The Cocodor Habarium diffuser offers a combination of the beauty of flowers and the fragrance of diffusers, and is an interior design accessory that keeps the feeling of the flowers alive for a long time.

FRAGRANCE
[April Fresh]
A harmonious mixture of a strong floral scent, sweet berries, and a cozy and powdery note for a fragrance that delivers the sensation of a softener. Same fragrance as April Breeze.
[Black Cherry]
The freshness of orange and green apple is added to the sweetness of the ripe black cherry. The unique subtle sweetness of black cherries will change the atmosphere.
[Floral Bouquet]
French lavender mixed with sweet and sour of fruity notes that harmonize for a very present, voluminous sensation, leaving a cool, herbal scent.
[Pure Cotton]
A mixture of white laundry, a citrus note, and mint, leaves a texture of clean cotton to recreate a clean and pure feeling of white quilt.