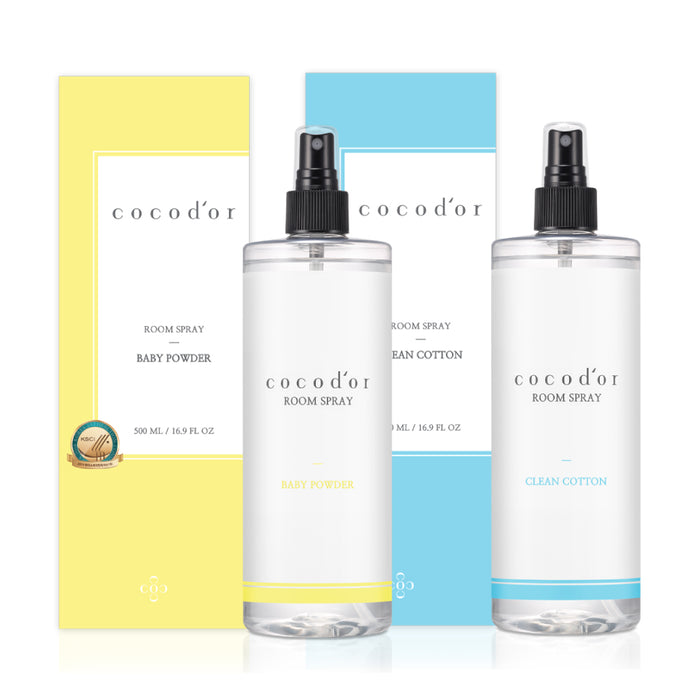 Room and Linen Spray Bundle / 16.9oz / 2 Pack [Build Your Own]
Sold out
Original price
£41.00
-
Original price
£41.00
FRAGRANCE

[Baby Powder] Lovely light powdery scent fills up the empty space. Slowly letting out your stress and tiredness. Feels like resting peacefully on the cloud.
[Cherry Blossom] Leaning against the window and feel the gentle breeze blowing into the room. Enjoy the warmth of the sunlight embracing the soft flower petals.
Discovered the sweetness and cuteness in the early summer.
[Rain Rose] Rain droplets shining on the roses after a light drizzle. Spreading the lovely sweetness in the humid air. A fragrance that makes everything better
[Clean Cotton] With the warm sunshine illuminates the ground and the refreshing breeze blowing the dry laundry. Feel the gentle floral refreshing fragrance as the beginning of the warm spring.
[Natural Green Tea] Soft breeze blow within the green leaves in the summer afternoon. Spreading the aroma of refreshing tea leaves and lime in the air. Carrying off the annoyance, calming down our bodies and mind.
[Peach Tree] Beautiful evening sunset decorates the sky of the summer. And the slow blowing breeze cooling down the atmosphere. With sweet and fresh peach tree fragrance soothe our tiredness.
ROOM SPRAY RECOMMENDED PLACES OF USE
bathrooms, cars, boats, linens, pillows, mattresses, bed sheets, clothing, dryers, shoes, carpets, furniture, offices, showers, yoga mats and studios.
HOW TO USE
Open the bottle cap and spray on the clothes that need deodorization or the space with peculiar smell.

The formation of sediment is a natural phenomenon for cocodor room spray due the use of natrural extracts as ingredients. The deposition does not affect the product quality and is safe to use. Shake well before use.