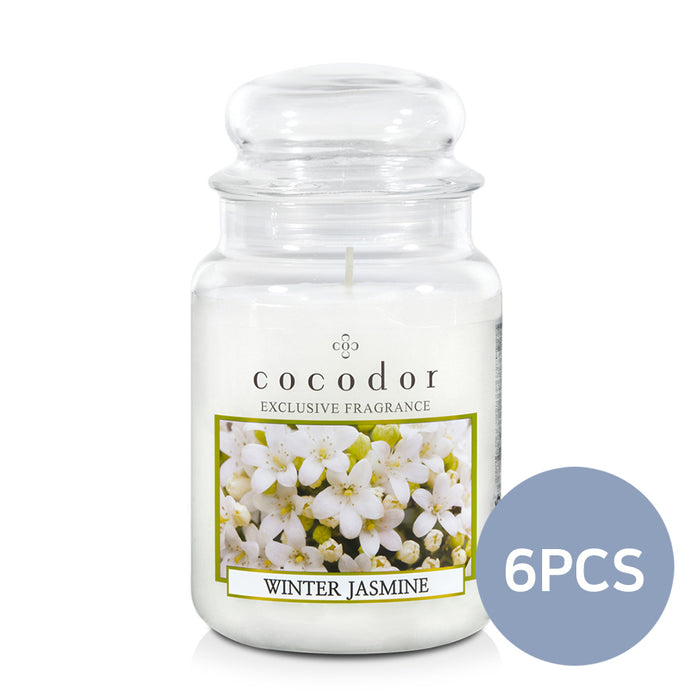 Large Jar Candle Bundle / 6 Pack [Build Your Own]
Sold out
Original price
$91.14
-
Original price
$91.14
CONTENTS 
Our largest Jar Candle provides over 120-150 hours as it infuses your space with an impressive fragrance
Dimensions: Measures 

3.7"D x 7.1"H

Weight: 57.4oz / 

630g

Made in Italy
FRAGRANCE
[Black Cherry]
A delicious mix of ripe handpicked cherries and bitter almond, this sweet bake well tart fragrance will give you a long lasting and intensely scrumptious scent.
[Open Window]
Clean and crisp, this will fill your home with the aroma of pure fresh air, evoking thoughts of clean laundry lightly blowing in the gentle breeze of a warm summer's day.
[Cotton Powder]
The scent of fresh, clean laundry drying in the cool breeze, filling your home and refreshing your senses. This fragrance combines the scents of fresh air and white flowers.
[White Jasmine]
Essential, calming and fragrant, this is a perfect representation of the widely celebrated scent of fresh jasmine. A fragrace that can be enjoyed anytime, anywhere. 
[Damson Rose]
This fragrance blends velvety tones of the majestic rose, with the sour fruit of wild damsons, to create an elegant rich finish. A great combination, with the native hedgerows and wild flowers of the British countryside.
[Lavender & Lemon Grass]
Sweet, soothing overtones of lavender combined with the clean, energizing citrus scent of lemongrass to create a perfect spring time fragrance.
[Sweet Pear]
A refreshing blend of fruity sun blushed pears and light floral apple blossom. Sweet and fruity, this will have you drifting away to a classic English pear orchard, ripe with its summertime harvest.
[Sicilian Citrus]
Escape to the Mediterranean with this tantalizing fragrance. A sunny blend of juicy oranges, succulent lemons and zesty limes create a warm and invigorating aroma, sure to make every day feel like summer.
HOW TO USE
Keep wick trimmed to ¼ inch. Never burn a candle on or near anything that can catch fire. Keep out reach of children and pets. Do not use if glass is chipped or cracked.
Large capacity is available to use for a long time. With the lid included, you can keep the candle clean when you store the candle with the lid closed after use.
SAFETY 
Made from natural palm wax blend and fiber wick no harmful chemical. Our long lasting Large jar candles are poured in ITALY