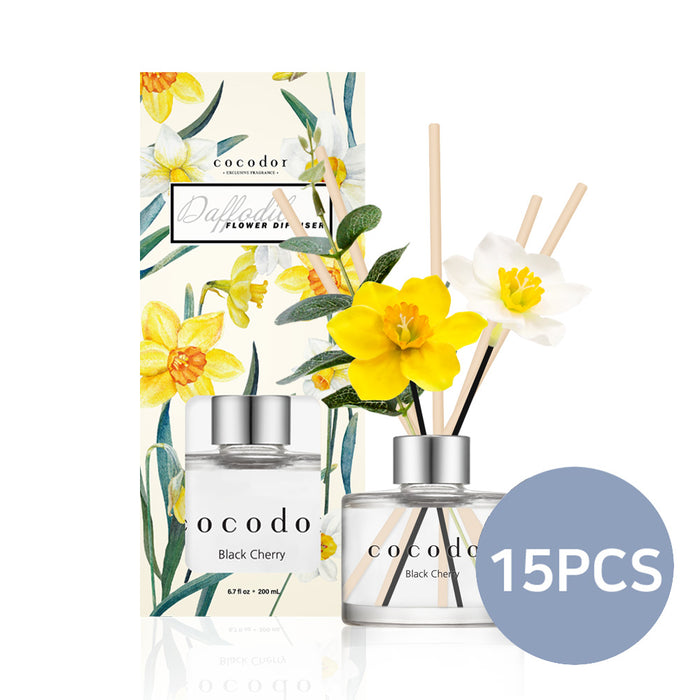 Daffodil Diffuser / 6.7oz / 4 Fragrances / 15 PCS
Sold out
Original price
$329.85
-
Original price
$329.85
CONTENTS 
Diffuser 200ml / 6.7oz + Reed Stick 5pcs + Preserved leaf+ 2 Artificial Daffodil flowers 
The elegant glass bottle is 6.7 oz with reed sticks and a real preserved green leaf.   
FRAGRANCE
[Black Cherry]
The freshness of orange and green apple is added to the sweetness of the ripe black cherry. The unique subtle sweetness of black cherries will change the atmosphere.
[April Breeze]
A harmonious mixture of a strong floral scent, sweet berries, and a cozy and powdery note for a fragrance that delivers the sensation of a softener. Same fragrance as April Fresh.
[Floral Bouquet]
French lavender mixed with sweet and sour of fruity notes that harmonize for a very present, voluminous sensation, leaving a cool, herbal scent.
[English Pearfree]
The rich and elegant scent by mixing fresh floral scent of white freesia and sweet scent of english pear