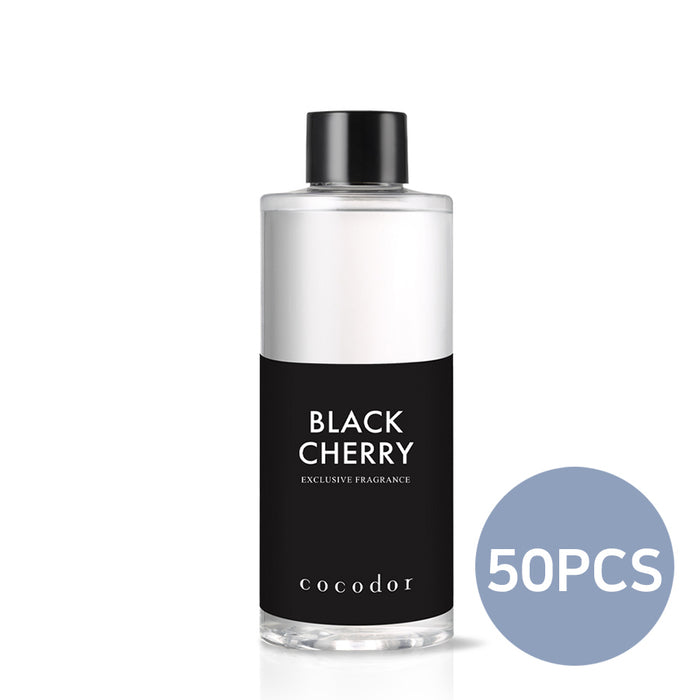 Diffuser Refill / 6.7oz / 13 Fragrances / 50 PCS
Sale
Sale
Original price
$649.50
-
Original price
$649.50
CONTENTS 
Elegant refill bottle is 6.7 oz (reed sticks are not included).
FRAGRANCE
[Black Cherry]
The freshness of orange and green apple is added to the sweetness of the ripe black cherry. The unique subtle sweetness of black cherries will change the atmosphere.
[April Fresh]
A harmonious mixture of a strong floral scent, sweet berries, and a cozy and powdery note for a fragrance that delivers the sensation of a softener.
[Pure Cotton]
A mixture of white laundry, a citrus note, and mint, leaves a texture of clean cotton to recreate a clean and pure feeling of white quilt.
[Refreshing Air]
A citrusy note of mandarin with a soft, bright, and cheerful vibrance that is added, accompanied by a clean note of cotton, leaving a pleasantly-refreshing mood.
[Garden Lavender]
The natural herbal fragrance of a lazy sunny afternoon in a garden full of lavender combined with lavender's signature sweetness brings relaxation to both the mind and body. Relax your mind and body in the hard daily life.
[Lovely Peony]
A mixture of a floral bouquet and magnolia is blended with pink musk to express elegance and sensuality of peony for a mysterious charm.
[Rose Perfume]
A fresh and sweet scent of Centifolia rose from the region of Grasse, France, is blended with the sensual aroma of musk for an enhanced a sense of rosy elegance.
[Floral Bouquet]
French lavender mixed with sweet and sour of fruity notes that harmonize for a very present, voluminous sensation, leaving a cool, herbal scent.
[English Pearfree]
The rich and elegant scent by mixing fresh floral scent of white freesia and sweet scent of english pear
[White Jasmine]
A scent having the scent of alluring white jasmine and rich and gentle scent unique to tuberose at the same time
[White Musk]
A scent with a rich white powdery feel with subtle sensuality added on top. Try to feel the deep charm of slowly permeating white musk scent
[Citrus Lavender]
Enjoy the freshness of the combination of lime and orange floral scent and herb lavender. Freshly bursting scent of orange and lime.
[Green Tea]
Lime and lemon citrus note and aromatic green tea scent make you toned down and help the space refreshing.
[Spa Relax]
From base note of cedarwood to top notes of green tea and blackcurrant, and it's a scent that makes you feel like you're in a cozy little forest.
[Aqua Savon]
It's soft and cozy, and the freshness of citrus is alive, giving you the feeling of just being washed out.
[Bombshell]
The cool and sweet blue herb clary sage and fresh lime refreshes the stuffy daily life by reminding us of the emerald-colored sea.
[Deep Musk]
A charming musk scent with a deep atmosphere with the cool bergamot pinewood as well as the blend of soft sandalwood and vanilla.
[Mango Jasmine]
From the base notes of vanilla and silky musk and the middle notes of white jasmine to the top notes of mango and blackberry, it is a scent that makes you feel the day when warm sunshine and white jasmine scent gently blows.
[Mojito]
Fresh citrus and cool mint flavor of lime and green lemon peels vividly deliver the charm of mojito.
[Blue Sea Salt]
The harmony of sweet berries that seem to flow from an orchard and the scent of fresh fig leaves evoke memories of first love in childhood.
[Pink Sand]
The exotic scent of Ylang Ylang and soft sea salt notes meet to portray the night sea where the aurora falls.
[Forest Dawn]
The citrus of refreshing lemon helps to clear the mind. And the coolness of Cypress gives you the feeling of being in a wide forest.
[Aqua Marine]
Capture the coolness and crisp sea air abound your space. Refreshing scents of light melon, fresh rosemary and white floral are reminiscent of the seaside.
[Flower Market]
The colorful and sweet scent of flowers in full bloom and the fresh scent of grass make you feel like you are at the flower market.
[Coco Peach]
Sweet and lovely peach scent with tropical fruity smell added which enhance freshness.
[French Lavender]
The fragrance has a fresh and neutral tone that is unique to French lavender as it paints the imagery of a garden full of violet lavender and is perfect for refreshment. The fragrance of French lavender is pleasant and an herbal scent with a smooth warm includes a scent similar to that of rosemary and citrus. It is much lighter than you could imagine, but feel like fresher than heavy undertone scent.
[Flower Blossom]
A scent harmoniously blended with the bright bloomed hyacinth, floral bouquets, and soft young grass. It will turn your space into a little field.
[Pink Grapefruit]
Florida orange's cool juice is added to the fresh and clear scent unique to pink grapefruit, making you feel refreshed.