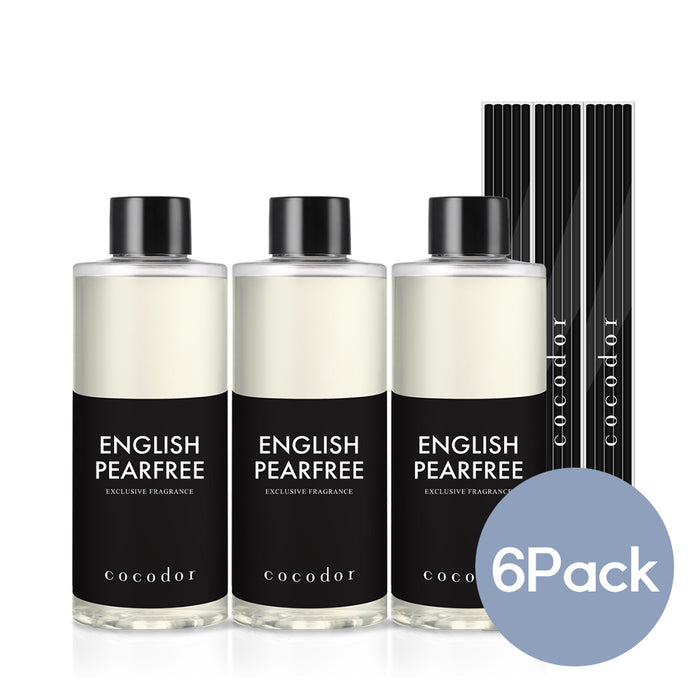 Diffuser Refill Bundle / 6.7oz / 6 Pack [Build Your Own]
Sale
Sale
Original price
$77.94
-
Original price
$77.94
Create your custom bundle set with your choice of fragrances! 
CONTENTS
Refill 200ml / 6.7oz  x QTY 6
FRAGRANCE
[Black Cherry] Mixed with the sweetness of grape and apple for a sweet and mysterious scent unique to black cherry that brightens livens up the interior.
[April Breeze] A harmonious mixture of a strong floral scent, sweet berries, and a cozy and powdery note for a fragrance that delivers the sensation of a softener.
[Pure Cotton] A mixture of white laundry, a citrus note, and mint, leaves a texture of clean cotton to recreate a clean and pure feeling of white quilt.
[Refreshing Air] A citrusy note of mandarin with a soft, bright, and cheerful vibrance that is added, accompanied by a clean note of cotton, leaving a pleasantly-refreshing mood.
[Garden Lavender] The natural herbal fragrance of a lazy sunny afternoon in a garden full of lavender combined with lavender's signature sweetness brings relaxation to both the mind and body. Relax your mind and body in the hard daily life.
[Lovely Peony] The scent of a floral bouquet and magnolia is blended with a pink musk note, and delivers the elegance and sensuality of the mysterious peony.
[Rose Perfume] The Grasse region's fresh, sweet centifolia rose is blended with sensual musk scent, delivering the rose scent more elegantly.
[Floral Bouquet] The floral bouquet lilac with the attractive fragrance of fresh flowers and the carnation's floral notes add a fresh scent and help you feel refreshed.
[English Pearfree] White Freesia's unique fresh floral fragrance blended with a gentle sweet fragrance of English pear, delivering rich and elegant atmosphere.
[White Jasmine] A scent having the scent of alluring white Jasmine and rich and gentle scent unique to tuberose at the same time. 
[White Musk] A scent with a rich white powdery feel with subtle sensuality added on top. Try to feel the deep charm of slowly permeating white musk scent.
[Citrus Lavender] Enjoy the freshness of the combination of lime and orange floral scent and herb lavender. Freshly bursting scent of orange and lime is added to the cozy hub scent of lavender. 
These Diffuser Refills are perfect for adding a decorative touch to any room's décor.