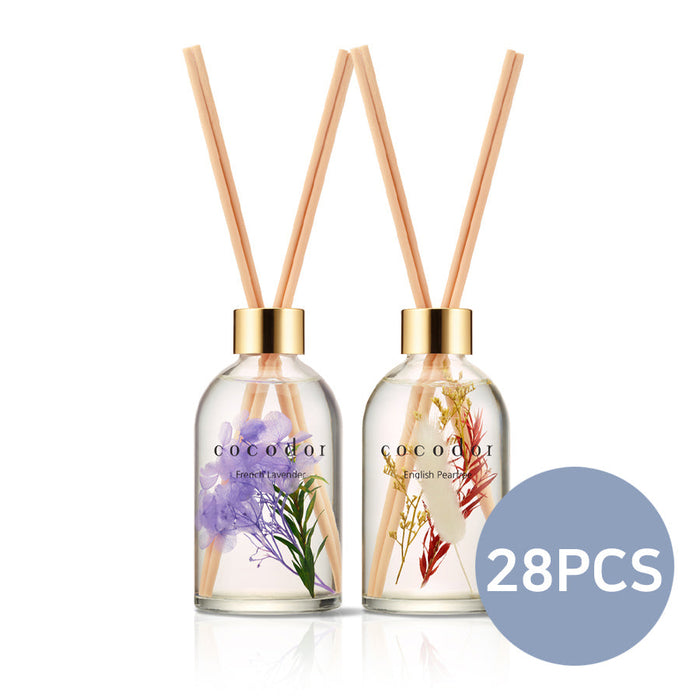 Herbarium Diffuser Bundle / 6.7oz / 28 Pack [Build Your Own]
Sold out
Original price
$0.00
-
Original price
$0.00
CONTENTS 
Diffuser 200ml / 6.7oz + Wood Stick 5pcs
The Cocodor Habarium diffuser offers a combination of the beauty of flowers and the fragrance of diffusers, and is an interior design accessory that keeps the feeling of the flowers alive for a long time. [/tab] [tab] Mixed with the sweetness of grape and apple for a sweet and mysterious scent unique to black cherry that brightens livens up the interior. 

FRAGRANCE
[April Fresh]
A harmonious mixture of a strong floral scent, sweet berries, and a cozy and powdery note for a fragrance that delivers the sensation of a softener. Same fragrance as April Breeze.
[Black Cherry]
The freshness of orange and green apple is added to the sweetness of the ripe black cherry. The unique subtle sweetness of black cherries will change the atmosphere.
[English Pearfree]]
The rich and elegant scent by mixing fresh floral scent of white freesia and sweet scent of english pear.
[French Lavender]
The fragrance has a fresh and neutral tone that is unique to French lavender as it paints the imagery of a garden full of violet lavender and is perfect for refreshment. The fragrance of French lavender is pleasant and an herbal scent with a smooth warm includes a scent similar to that of rosemary and citrus. It is much lighter than you could imagine, but feel like fresher than heavy undertone scent.
[Floral Bouquet]
French lavender mixed with sweet and sour of fruity notes that harmonize for a very present, voluminous sensation, leaving a cool, herbal scent.
[Refreshing Air]
A citrusy note of mandarin with a soft, bright, and cheerful vibrance that is added, accompanied by a clean note of cotton, leaving a pleasantly-refreshing mood.
[Pure Cotton]
A mixture of white laundry, a citrus note, and mint, leaves a texture of clean cotton to recreate a clean and pure feeling of white quilt.
HOW TO USE
1. Use your hand or tools like forceps to remove the plastic cork out gently.
2.Put as mana reed as you want in the vessel and let the oil evaporates slowly.
3.Keep it away from the reach of small hands and paws.
4.Avoid any direct sunlight and open flame. 
You can choose to add or remove the number of reed sticks to match your taste.
It takes 1 or 2 days for the fabric sticks to soak in the scent.
When the fragrance weakens, simply turn the reed sticks upside down or
replace them with new ones.
SAFETY 
Our fragrances are free from trichloroethylene, didecyldimethylammonium chloride, toluene, xylene and styrene and adhere to IFRA standards and regulations.