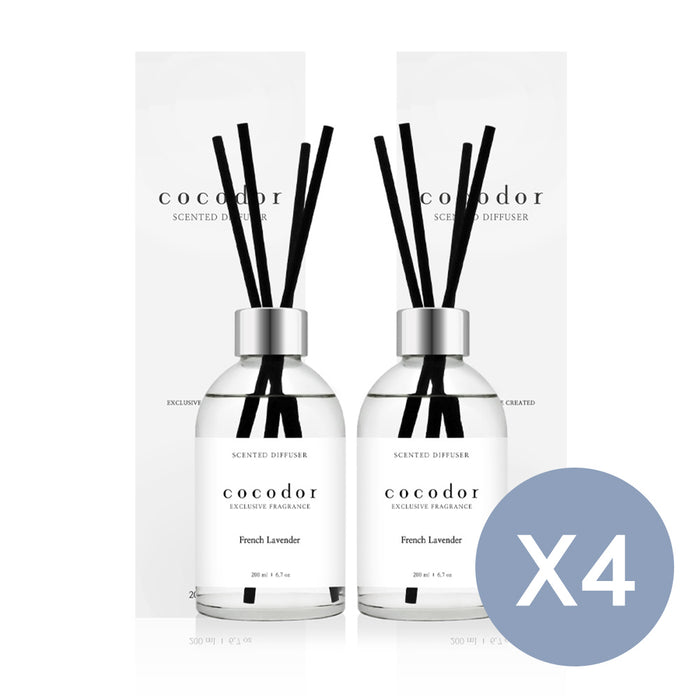 White Label Reed Diffuser Bundle / 6.7oz / 4 Pack [Build Your Own]
Sale
Sale
Original price
$71.96
-
Original price
$71.96
CONTENTS 
Diffuser 200ml / 6.7oz + Reed Stick 5pcs 
Elegant glass bottle is 6.7 oz with reed sticks included.
FRAGRANCE
[Black Cherry]
The freshness of orange and green apple is added to the sweetness of the ripe black cherry. The unique subtle sweetness of black cherries will change the atmosphere.
[Garden Lavender]
The natural herbal fragrance of a lazy sunny afternoon in a garden full of lavender combined with lavender's signature sweetness brings relaxation to both the mind and body. Relax your mind and body in the hard daily life.
[Pink Sand]
The exotic scent of Ylang Ylang and soft sea salt notes meet to portray the night sea where the aurora falls
[Aqua Savon]
It's soft and cozy, and the freshness of citrus is alive, giving you the feeling of just being washed out
[Flower Market]
The colorful and sweet scent of flowers in full bloom and the fresh scent of grass make you feel like you are at the flower market.
[White Musk]
A scent with a rich white powdery feel with subtle sensuality added on top. Try to feel the deep charm of slowly permeating white musk scent
[Balsam & Cedar]
A unique blend of sweet and cool scent and rubbery resins makes you relaxed as if lying in the woods
[Dark Vanilla & Sandal wood]
Just like having a sweet ice cream on one nice day at a park, feel the smoothness and fullness of vanilla arranged with sandalwood scent
[Healing Fougeres]
It is a fragrance with the added touch blending of the green forest that spreads out over the Amazon River and the note of modern laundry. The fougere Notes turns your modern space into a comfortable rainforest retreat.
[Osmanthus]
Enrich the atmosphere with a captivating scent. A blend of beautiful lilies, blooming jasmine, sweet vanilla, with notes of orange evokes pure treasured childhood nostalgia.
[Sunset Rose]
Fill the air with alluring rose and elegant Jasmine, combined with warm and soft woody aroma. This will create of tranquility in your space.
[White Jasmine]
A scent having the scent of alluring white jasmine and rich and gentle scent unique to tuberose at the same time
[Mango Jasmine]
From the base notes of vanilla and silky musk and the middle notes of white jasmine to the top notes of mango and blackberry, it is a scent that makes you feel the day when warm sunshine and white jasmine scent gently blows
[Coco Peach]
Sweet and lovely peach scent with tropical fruity smell added which enhance freshness
[In The Café]
A harmonious mixture of a hazelnut scent, vanilla, and gourmand note for a fragrance that reminds you of a cafe shared happiness
[Bombshell]
The cool and sweet blue herb clary sage and fresh lime refreshes the stuffy daily life by reminding us of the emerald-colored sea.
[Blue Sea Salt]
The harmony of sweet berries that seem to flow from an orchard and the scent of fresh fig leaves evoke memories of first love in childhood.
[April Fresh]
A harmonious mixture of a strong floral scent, sweet berries, and a cozy and powdery note for a fragrance that delivers the sensation of a softener.
[Cherry Blossom]
The scent of cherry blossoms in spring. The scent of pink peach and rose added with a pink fruit, reminding you of cherry blossoms blooming brightly.
[Forest Dawn]
The citrus of refreshing lemon helps to clear the mind. And the coolness of Cypress gives you the feeling of being in a wide forest.
[French Lavender]
The fragrance has a fresh and neutral tone that is unique to French lavender as it paints the imagery of a garden full of violet lavender and is perfect for refreshment. The fragrance of French lavender is pleasant and an herbal scent with a smooth warm includes a scent similar to that of rosemary and citrus. It is much lighter than you could imagine, but feel like fresher than heavy undertone scent.
HOW TO USE
You can choose to add or remove the number of reed sticks to match your taste. It takes 1 or 2 days for the fabric sticks to soak in the scent. When the fragrance weakens, simply turn the reed sticks upside down or replace them with new ones.
SAFETY
Our fragrances are free from trichloroethylene, didecyldimethylammonium chloride, toluene, xylene and styrene and adhere to IFRA standards and regulations.