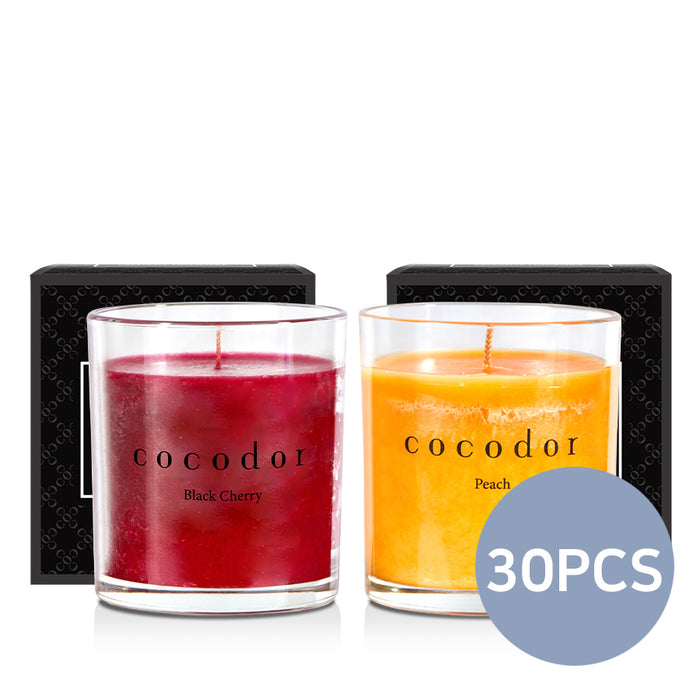 Premium Jar Candle / 8 Fragrances / 30 PCS
Sale
Sale
Original price
$419.70
-
Original price
$419.70
CONTENTS 
The premium candle helps to remove odors from the kitchen, living room and rooms with a compact size.
Weight:

 

4.6 oz 

/ 1

30g

Made in Italy

 
FRAGRANCE
[Black Cherry]
A delicious mix of ripe handpicked cherries and bitter almond, this sweet bake well tart fragrance will give you a long lasting and intensely scrumptious scent.
[Garden Lavender]
Sweet, soothing overtones of lavender combined with the clean, energizing citrus scent of lemongrass to create a perfect spring time fragrance.
[Open Window]
Clean and crisp, this will fill your home with the aroma of pure fresh air, evoking thoughts of clean laundry lightly blowing in the gentle breeze of a warm summer's day.
[Cotton Powder]
The scent of fresh, clean laundry drying in the cool breeze, filling your home and refreshing your senses. This fragrance combines the scents of fresh air and white flowers.
[Peach]
A fruity fragrance, characteristic of peach, delicately sweet but not cloying with gourmand and juicy notes.
[Tea Rose]
A rich, luxurious musky rose accord supported by sumptuous dominant notes of violet and amber.
[Anti Tabacco]
A fragrance containing orange and clove oil extracts which helps to remove tobacco smells. Odorous molecules stimulate smell receptors, according to their polarity.
[Chef]
A fragrance containing Basil, Patchouli and Geranium oil extracts which helps to remove cooking odours. Odorous molecules stimulate smell receptors, according to their polarity.
[White Jasmine]
Essential, calming and fragrant, this is a perfect representation of the widely celebrated scent of fresh jasmine. A fragrace that can be enjoyed anytime, anywhere.
HOW TO USE
1. When shortly using the candle, tunneling may occur. We recommend using more than three hours that melt to the edge.
2. If soot occurs, please cut the wick about 3-5mm to use.
3. Do not leave the room with the candle on.Be very careful as it may cause a fire.
SAFETY 
Made of high quality palm wax, premium jar candles ensure long lasting burning time for 30 to 40 hours. Our long lasting premium jar candles are poured in ITALY with natural palm wax and fiber wick.