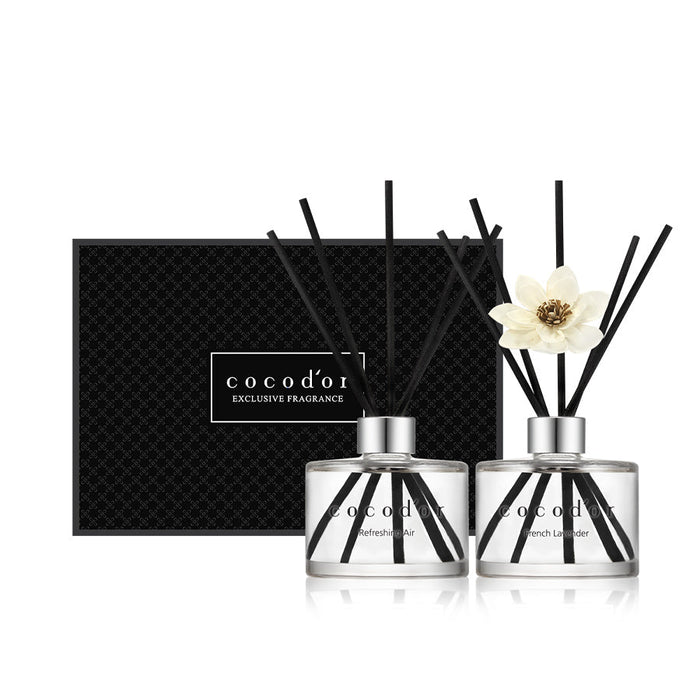 Diffuser Gift Set (Standard) [Refreshing Air+French Lavender]
Sold out
Original price
$36.00
-
Original price
$36.00
Diffuser 200ml 2pcs + Reed Stick 10pcs + White Flower Stick 1pc in a gift box
It is a thoughtful gift idea for weddings, birthdays, housewarming parties, Christmas, holidays, Mother's day, and Father's Day. Give joy to your parents, friends, colleagues, and customers with our luxurious Cocodor diffusers.
FRAGRANCE
• French Lavender - The fragrance has a fresh and neutral tone that is unique to French lavender as it paints the imagery of a garden full of violet lavender and is perfect for refreshment. The fragrance of French lavender is pleasant and an herbal scent with a smooth warm includes a scent similar to that of rosemary and citrus. It is much lighter than you could imagine, but feel like fresher than heavy undertone scent.
• Refreshing Air - A citrusy note of mandarin with a soft, bright, and cheerful vibrance that is added, accompanied by a clean note of cotton, leaving a pleasantly-refreshing mood.
HOW TO USE
Use your hand or tools like forceps to remove the plastic cork out gently.
Put as many reed as you want in the vessel and let the oil evaporates slowly.
Keep it away from the reach of small hands and paws.
Avoid any direct sunlight and open flame.
You can choose to add or remove the number of reed sticks to match your taste.
It takes 1 or 2 days for the fabric sticks to soak in the scent.
When the fragrance weakens, simply turn the reed sticks upside down or
replace them with new ones.