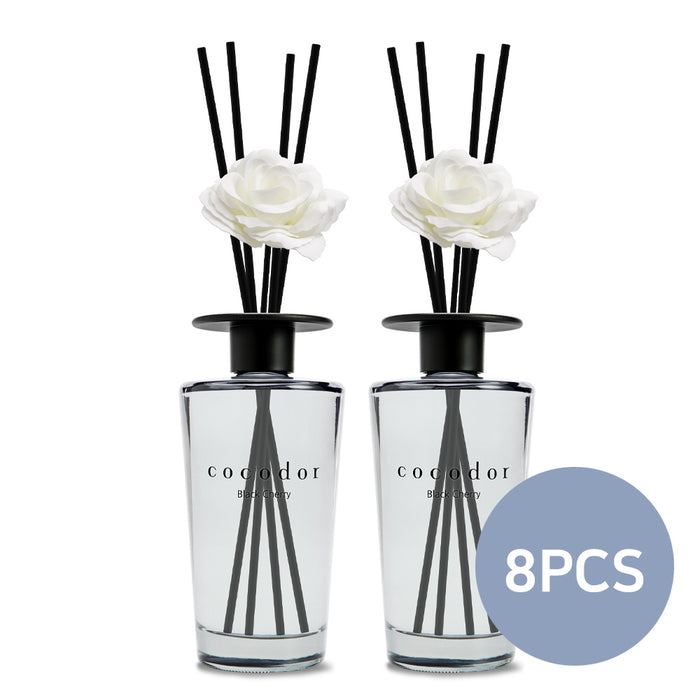 White Flower Reed Diffuser / 16.9oz / 6 Fragrances / 8 PCS
Sale
Sale
Original price
$309.00
-
Original price
$309.00
CONTENTS 
Diffuser 500ml / 16.9oz + Reed Stick 5pcs + White Flower Stick 1pc
Elegant glass bottle is 16.9 oz with reed sticks included.

FRAGRANCE
[Black Cherry]
The freshness of orange and green apple is added to the sweetness of the ripe black cherry. The unique subtle sweetness of black cherries will change the atmosphere.
[April Breeze]
A harmonious mixture of a strong floral scent, sweet berries, and a cozy and powdery note for a fragrance that delivers the sensation of a softener. Same fragrance as April Fresh.
[Garden Lavender]
The natural herbal fragrance of a lazy sunny afternoon in a garden full of lavender combined with lavender's signature sweetness brings relaxation to both the mind and body. Relax your mind and body in the hard daily life.
[Balsam & Cedar]
A unique blend of sweet and cool scent and rubbery resins makes you relaxed as if lying in the woods
[Flower Market]
The colorful and sweet scent of flowers in full bloom and the fresh scent of grass make you feel like you are at the flower market.
HOW TO USE
1. Use your hand or tools like forceps to remove the plastic cork out gently.
2.Put as mana reed as you want in the vessel and let the oil evaporates slowly.
3.Keep it away from the reach of small hands and paws.
4.Avoid any direct sunlight and open flame. 
You can choose to add or remove the number of reed sticks to match your taste.
It takes 1 or 2 days for the fabric sticks to soak in the scent.
When the fragrance weakens, simply turn the reed sticks upside down or
replace them with new ones.
SAFETY 
Our fragrances are free from trichloroethylene, didecyldimethylammonium chloride, toluene, xylene and styrene and adhere to IFRA standards and regulations.